First, I have to confess: for all of the obvious symbolism of the crab and the Moon, I believe Cancer is a misunderstood sign. Far beyond simply being a sign known for natives that abhor change, crave nostalgia (and sentimental possessions), and display an unrivaled sensitivity-- Cancer is a powerful sign. After all, it is of the Cardinal quality and is the first sign of the water element. This combination alone makes for a sign archetype that is powerfully intuitive and intensely emotional. Cancer is ruled by the Moon, further imbuing this already intuitive sign with the mysteries of this celestial body that has come to represent our emotions, dreams, and secrets in mythology and popular culture. In fact, the Moon is an integral part of astrology and was, for a time, seen as the most prominent aspect of the birth chart that embodied the answer to the common question "What's your sign?". I am inspired by this sign's connection to water, mysticism, and the Moon and have collected beauty looks and products that anyone can incorporate into a fantasy makeup or an evening look when you are feeling like channeling the Moon-child energy of this sign.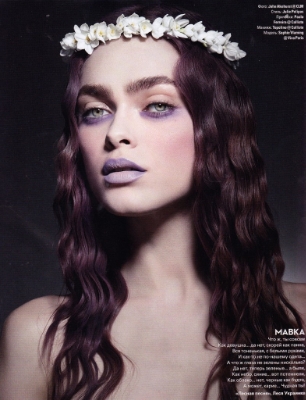 Two MAC collections that perfectly fit the archetype of Cancer are the MAC and Chen Man Love & Water Collection for Spring 2012 and Alluring Aquatic Collection for Summer 2014. The Chen Man collection features dark and moody pinks, blues, and purples with a focus on duotones. In contrast, the Alluring Aquatic collection is very lunar in its color scheme, featuring pearlescent light sea foam green, coral, blue, and gold. A few samples of the collection are shown below including the featured campaign look for the Chen Man collection.
The beauty looks shown below are fantasy makeups that feature the tones and symbols of Cancer including pearls and a dynamic use of water. To achieve the dripping water or moon juice look, simply use acrylic paint or latex to create the drips and allow to dry. Bonus: latex can be mixed with pigment to create a unique color. A handy way to ensure that any 3D applications such as pearls or sand/rocks/shells stay put is to use lash glue on the skin.
Sephora has a beautiful set of face charts featuring Make Up Forever inspired by each astrological sign. Check out the face chart for Cancer here.
Find more Cancer inspiration on my Pinterest board!